About
ExoticA is hosted with Mythic-Beasts who are kindly sponsoring the bandwidth needed for the site. They offer an excellent Mac Mini dedicated hosting service which is ideal for a low cost hosting solution. The Mac mini is very small, so you can fit 8 in 3U of rackspace, but also they don't require a great deal of power. For more details please visit the Mythic-Beasts Mac Mini page.
Hardware
Mac Mini 1333MHz G4
512 MB Ram
40GB 2.5" IDE (4200rpm)
Ethernet
Software
Debian Stable 'Sarge'
Apache 2
PHP
MySQL
The server name is Malus, which is the genus for Apple :-) It also means evil in latin, but you can't have everything.
Pictures
And to finish with we have to have some pictures of the actual server. Malus is on the bottom left.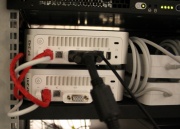 Hosting provided by Mythic-Beasts. See the Hosting Information page for more details.